01 Oct

Cucumbers With Ranch Greek Yogurt Dip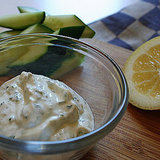 Ingredients
1-2 cucumbers, cut into 1/2-inch wedges 1 clove garlic, mashed into paste 1/2 bunch chives, thinly sliced 1/4 bunch flat-leaf Italian parsley, chopped 1 6-ounce container of strained Greek yogurt Lemon juice to taste Salt to taste
Directions
This dip will complement any raw vegetable, so be sure to try it on bell peppers, carrots, and broccoli florets.
To make garlic paste: chop garlic then add a generous pinch of coarse salt. Mash the garlic and salt mixture with the flat side of your knife.
Stir garlic paste, chives, parsley, and lemon juice to Greek yogurt until well combined. Salt to taste.