07 Jul

Cinnamon Roll Pancakes

Cinnamon Roll Pancakes:

Ingredients:
-1 scoop Vanilla Protein (MRM)
-1/2 tsp. baking powder
-Liquid Cinnamon Stevia
-1/4 tsp. Cinnamon spice
-5 oz. non-fat plain Greek yogurt
-2 tsp. powdered peanut butter, optional
-1 large, whole egg
-1 tsp. water
-2 tsp. Walden Farms Zero Calorie Maple Syrup, optional

Directions:
1.  Mix protein powder, 1 dropper cinnamon stevia, 1 large egg, and baking powder in a blender.
2. Add a little bit of water (about 1 tsp.) if the mixture is too dry.
3. Put mixture on a non-stick medium sized frying pan, on medium heat.
4.  Cook for about 2 minutes on one side, or until the bubbles begin popping on top of the pancake and it's lightly golden brown on the bottom.
5.  Cook the other side for another 2-3 minutes, until it looks like a pancake!
6.  For Topping: Add 2 tsp. Walden Farms Maple Syrup, 1/4 tsp. cinnamon spice, 2 tsp. powdered peanut butter, and 1/2 dropper of cinnamon stevia to 1/2 cup of plain Greek yogurt. Mix until thoroughly combined.
7.  Using a spoon to swirl it on, add mixture on to pancake as a delicious, nutritious, protein packed topping!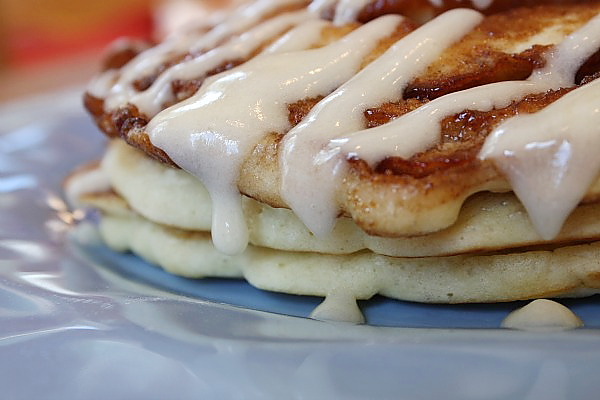 -Makes 1 serving (1 protein)
#poweredbyprotein #recipebymeghan