Prolean Injection Lipolysis (PIL)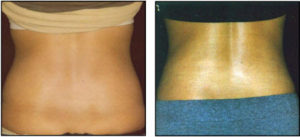 Prolean Wellness is proud to offer our patients a technique proven to spot-reduce fat without painful surgery.  This method, pioneered by dermatologist Patricia Rittes, M.D., was developed in the late 1990's for patients who unable to have cosmetic surgery.  Prolean Wellness's resident doctor, Melenie Dunn, trained directly with Dr. Rittes, and has performed Injection Lipolysis locally since 2007.  Read more here and here to discover how effective and satisfactory this procedure can be!
Prolean Injection Lipolysis uses PC/DC, a natural compound derived from soy. Fat cells treated are destroyed (imagine liposuction without surgery), guaranteeing lasting reduction (unless greater weight gain occurs in the future). Consider Prolean Injection Lipolysis a healthy, affordable option for enduring weight loss!
Prolean Injection Lipolysis vs. Kybella
A new trend rising in non-surgical fat reduction is a procedure/product called Kybella, a synthetic version of the natural deoxycholic acid that Dr. Dunn has been using for years. While Kybella is only approved to treat the fat pads under the chin, Prolean Injection Lipolysis can be used in multiple areas, including:
backs of arms
saddle bags
inner thighs
love handles
inner knees
front of thigh
back of thigh
belly pooch
back fat
double chin
jowls
Save Money with PIL
Prolean Injection Lipolysis is a fraction of the cost of the Kybella treatment. The average price for just one Kybella treatment is up to $1800, with three treatments required per area. Prolean Wellness offers affordable treatments of PIL for less than the cost of one Kybella treatment!
Safe Ingredients, Incredible Results
The Prolean Injection Lipolysis treatment combines natural deoxycholic acid (DC) with phosphatitdyl choline (PC)—elements readily found in the body.  Together, they destroy fat cell membranes and break down the fatty acid content within.
Three treatments are typically required to achieve desired results in any area, and patients must wait at least four weeks between treatments for PIL to take effect.  However, because PIL continues to influence cells for up to twelve weeks, the final result may not be visible until twelve weeks after the last treatment.
Each round takes 15-30 minutes to administer, depending on the size of the treated area.  Small doses of the PC/DC are injected into each site about 1 centimeter apart from each other (enough to cover the entire area being treated.)  The needle used is very thin and only half an inch long, so injections cause minimal discomfort.  The PC/DC works immediately, lysing (destroying) the fat cells and stimulating the body to initiate an inflammatory cascade. The resultant inflammation is an important part of the process, so steps to control inflammation should be avoided (no icing or anti-inflammatory medications). Just let your body do its job!
What you can expect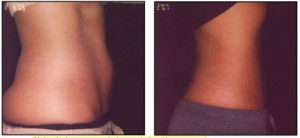 Remember, the formula requires acid to work properly. As it disintegrates the fat cell membranes, patients should expect to feel a mild prickle to a steady burn. Don't worry though! The irritation is temporary (between 15-45 minutes), and means that the PIL is working effectively.  Swelling may increase after the treatment, but will subside in 3-5 days.
Once the swelling goes down, treated areas might feel jelly-like. This usually lasts a few days to a few weeks.  Other side effects may include numbness, bruising, or nodules under the skin, which usually resolve themselves over time.  Patients receive a short list of instructions to ensure best results.
Images taken from a study published in
The Journal of Clinical and Aesthetic Dermatology October, 2012